Technology has changed almost every aspect of our lives. One of the biggest impacts has been how we communicate with each other. Gone are the days when communication was mainly through desk phones, fax, and paper mail. Today, we text, chat, email, video chat, and so much more. Under the direction of City Council, the Information Technology Agency (ITA) has been implementing the Mobile Worker Program across City departments, wherein traditional desk phones are being replaced by smartphones for most employees.
Below are instructions and user guides to help you with your City issued smartphone.
Discover Your Samsung J3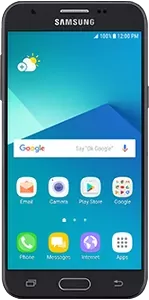 Tutorials about how to operate your phone such as how to add contacts, setup voicemail and enable WiFi
- Setting Up Your Samsung J3 Prime (Black)
- Setting Up Your Samsung J3 Star (Gold)
Tutorials on how to setup City applications such as Google e-mail and calendar on your phone
- Conference Calling Instructions for Smartphones
- Installing Recommended Apps & Shortcuts
- Installing Your City Email to the Smartphone
- Instructions for One-Time International Calls
- Instructions for Turning Off WiFi Calling
Important Documents
- Phone Policy for Administrators
- Technology Use Policy
- Welcome Letter to Coordinators
- How Will This Work?
- Mobile Worker Program Presentation Slide
Frequently Asked Questions
How will this affect me?
Employee desk phones will be replaced with City-issued cell phones. Each employee will be provided an Android smartphone, charger, and phone case.
Is this a good thing?
Yes, smartphones give you many more options than old-fashioned phones, including:
More ways to communicate (call, text, email, or chat)
Easy access to information when you need it, where you need it
Improved emergency communications (employee safety)
It's also better for the City of LA:
Saves taxpayer money (costs $6-7 Million less than VoIP desk phones)
Reduces strain on City data network
Helps enlistment of younger workforce (Millennials and Gen Z)
Do I have to replace my current desk phone?
Unfortunately, yes. By 2020, U.S. phone companies are eliminating traditional phone services, requiring the City of L.A. to eliminate our aging phone system. Under the direction of City Council, the ITA is implementing the Mobile Worker Program in which most employees will be migrated from their traditional desk phones to smartphones.
Will I get to keep my number?
Yes. Employees will have their desk phone numbers transferred to their City cell phone.
Do I have to carry my cell phone everywhere?
No. Just because you can, doesn't mean you need to take it everywhere. Employees are expected to have them available at their work space during work hours. This includes:
Keeping phone charged
Keeping phone accessible
Keeping phone on alert (ringer on or vibrate mode)
Employees are welcome to bring them to meetings, work activities, or home. However, non-salaried staff must follow their department's overtime policies for use after-hours.
Will everyone use a smartphone?
Most employees will have their old phone replaced with a smartphone, however, some functions require a stationary VoIP phone (receptionists, call centers, LAPD stations, etc.)
Can I download apps?
Yes. The phone will include key work apps and employees are allowed to download additional apps for work purposes, subject to the City of L.A. Phone Policy.
Who is my department's Phone Coordinator?
You can find your department's Phone Coordinator on Cityfone.
How will it work?
Five steps:
ITA & each department coordinator will plan the transition to new smartphones
T-Mobile will examine work sites to ensure excellent phone coverage
T-Mobile staff will deliver new phones (will be replaced every two years)
Typically after two to three weeks, employee desk phone #s will be "ported" to the new smartphone.
Old desk phones will be removed
Where can I learn more about my phone and how to use it (Intranet access only)?
Check out the 'Discover Your Phone' section to learn how to use it, awesome tips, and more!
What if I have a problem?
Open a SNow ticket to get help from an ITA employee, or review Frequently Asked Questions.